LIKE us AT Facebook!  Share and learn tips, techniques, gear and more!
Scrumptious Backpacking Recipes
Do you love interior camping and are looking for some new Ideas for Backpacking recipes?
Then, this page is just for you!

Or, if you want MORE yummy wilderness camping recipes, check out my camping cooking ebook.
Packing for a Backpacking camping trip is very different than car camping. There are several things that you need to keep in mind that you don't need to keep in mind when car camping.
These things include:
· Weight
· Lack of refrigeration
· Park rules such as no glass containers or cans (For example, Quetico Provincial Park in Ontario does not allow cans or glass jars when in the interior of the park).
---
Weight:
To reduce weight, a great idea is to dehydrate food. This may sound complicated, but it's actually quite simple, and once you get the hang of it you'll be dehydrating meals all year-round to have phenomenal meals when tripping. Of course you can always buy 'freeze dried meals', but those are VERY expensive, and it's actually quite easy to do it yourself! The ebook I've written, with Backpacking recipes will explain how to do this!
Lack of refrigeration:
This means that you have to know how long things will last without refrigeration, and how to get them to last longer- such as wrapping cheese in a 'cheese cloth' dipped in vinegar to make it last long and not dry out (the cheese doesn't even taste vinegar-y!) Or, freezing items so that they'll act as 'ice' for a meal for the second or third day.
Park Rules:
Many parks have rules that ban containers such as glass jars or cans. This is to prevent campers from leaving litter in the park. Although this means a bit more preparation and work at the beginning, it can help in the long run, cause if you dehydrate your own food, it'll be lighter and tastier than store bought stuff!
---
A few simple backpacking recipes.
You can eat delicious meals when in the middle of the woods!
A few good backpacking recipes that I've made include:
(If you want the full recipe, send your e-mail to get my Backpacking Recipe Book) 
Lentil Curry – take all your favourite powdered curry spices and combine them in a bag or small Nalgene container. Then, bring lentils and rice. Include an onion and several carrots. All ingredients can last several days without refrigeration, and the lentils are very hearty and filling.
Trip Pita Pizza - bring Pizza Squeeze (pizza sauce bought in a plastic squeeze jar), plus onion, cheese (pre-packed as directed in wilderness cook book that I wrote), onion, pepperoni and Pitas. Cook on a hot rock beside the fire until the cheese melts, or stuff the pita, and fry in a pan with butter (like a quesadilla). Not the healthiest meal, but who cares!!! You've earned it today!
Baked Apple Dessert - With tin foil, chocolate chips, cinnamon, granola, brown sugar and an apple that has had the core cut out, you can then put the tinfoil stuffed apple near the fire, or coals and let the apple cook and the chocolate melt. A tasty dessert for the end of the day to enjoy at sunset!
Ultimate G.O.R.P - Add your favourite of the following ingredient ideas to make your own personal delicious trail mix. I like to hit-up the bulk store to get the ingredients that I want. Peanuts, Raisons, Oatmeal or Granola, Cashews, Roasted Almonds, Walnuts, Sunflower Seeds, Pumpkin Seeds, Craisons (dried cranberries), Dried Banana, Dried Apricot, Dried Pineapple, Dried Blueberries, Dried Goji Berries, Yogurt Chip, Dark Chocolate Chips, Carb Chips, Pecans, Filberts, Smarties, Peanut Smarties, M&M's, Peanut Butter M&M's, Gummy bears, Chocolate covered almonds, Chocolate covered raisons, Chocolate covered peanuts, Juice Berries.
These are only a few of the recipes that are all explained in further detail in my Backpacking e-cookbook . 
Or, you can check out the camping food list page for more inspiration.
OR, EVEN better, share YOUR favourite backpacking or camping recipe!
One thing that I always missed when I lead interior canoe trips, was learning other peoples backcountry recipes, because since I lead my own trips, I only ate and planned for what I knew how to make, and I didn't learn other recipes.

Check out the ebook I made of ALL my (and my campers) favourite camping recipes.
Have A Great Backpacking Recipe to Share?
Do you have a great backpacking recipe? Share it!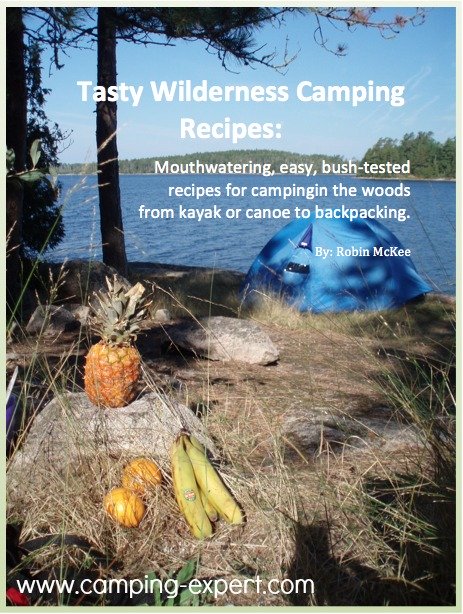 Check out my page on why I would recommend a food dehydrator.
Return from Backpacking Recipes to Camping Expert (home page)