LIKE us AT Facebook!  Share and learn tips, techniques, gear and more!
Comprehensive Camping
Check List
Camping check list
This page has the camping checklist for car camping.
---
Other kinds of camping lists:


Canoe Camping Checklist
Hiking Checklist
---
Car Camping Checklist
Reservation information
Money, ID and quarters (for laundry, showers etc).


Cooking and area:
Rope and several bungee chords
Tarp or screened kitchen tent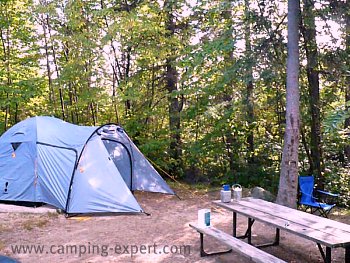 Water jug
Cooler with ice or ice packs
Container for dry food
Stove and Fuel
Cutting board
Bowls
Plates
Mugs
Spoons and knives
Aluminum foil
Measuring cup
Papertowel
Good Knife
Flipper
Big spoon
Tongs
Potato peeler
Can opener
Pots and pans with lids (nested with handle)
Dish Soap and tea towel and scrub brush and oven mitt
Soap for outside of pots
Clothes pins
Bucket
Matches and lighter
Firestarter or newspaper
Axe or saw
Campfire Grill (if not provided at site)
Plastic table cloth
Ziplock bags
Seasoning/salt and pepper/sugar/condiments
S'more ingredients! Graham crackers and chocolate and marshmallows
Marshmallow stick (bent open coat hanger with ribbon at end).
Coffee maker or small filter for coffee
Hot chocolate, tea and coffee


Sleeping
Tent with groundsheet (extra tent pegs)
Sleeping bags
Sleeping pad (therma rest, or pad)) (with pump if needed)
Repair kit for sleeping pad
Pillow
Matt for tent entrance
Small dust pan or brush
Alarm clock (optional)


Clothing
Sweater
Longsleeve shirt
Tshirt/ Tanktops
Bathing suit
Quick dry/ light weight pants NOT Jeans!
Shorts
Undies for number of days (and bras)
Hat or Bandanna
Socks (for number of days)
Towel
Rain gear
Sandles
Running shoes / hiking shoes
Laundry bag
Flip flops (for beach and shower)


All things personal
Toothbrush
Toothpaste
Floss
Soap in plastic case
Shampoo
Deoderant
Washcloth
Feminine products
Hair brush/Comb
Razor
Sunscreen and bugspray
Sunglasses
Medication and dental appliances (retainer),
Lipchap
Camping shower (if facilities don't have)
Extra toilet paper (important, but don't leave in the woods)


For each person
Water bottle
Camera with extra charged battery and extra memorycard/film
Journal, writing paper
Flashlight and extra batteries

Other Equipment
Work gloves
Citronella candles
Lantern with Mantles
Camping chairs for around the campfire
Toilet paper
Duct tape
First Aid kit with tweezers and band-aids and safety pins
Garbage bags
Small sewing kit


Extra fun
Paddles
Boat safety kit
Lifejackets with Whistle
Inflatable boat with pump if needed
Books or Magazines that you haven't had time to read, or group books that everyone could enjoy.
Fishing gear
Compass or GPS for Geocaching
Musical instruments for around the fire
Hammock
Park map and Trail maps
Binoculars
Cards or board game if it starts to rain (family favorite is travel chess)
Bikes and helmets

Optional
Bum-pack for hikes- it's not fashionable, but they are handy…

---
Things you DO NOT NEED for car camping, (although may be needed on other types of camping such as canoe camping)

Canoe repair kit
Water filter
Satellite phone or radio
Radio
Jeans- NEVER TAKE JEANS CAMPING EVER!
This camping check list is meant as a car camping list.
---
Return from Car Camping Check list to Camping Expert Homepage