LIKE us AT Facebook!  Share and learn tips, techniques, gear and more!
Pelican Case or Underwater Kinetics Cases:
keep valuables safe
Pelican case. Underwater Kinetics Cases. The failproof way to keep your valuables safely with you!
Would I recommend them? The easy answer yes.
If 'yes' is all you're looking for, read no further, just visit their sites to find a case that fits your needs and stuff.
Want to know why I'd recommend them? Keep reading?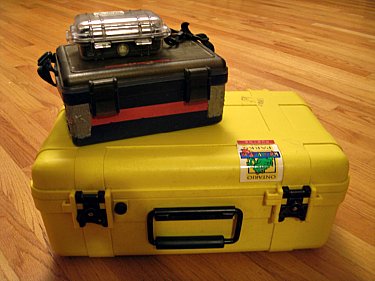 Years ago, I had an old style Pentax film camera. It took great pictures, but I didn't want to bring it with me anywhere, in case it got knocked by something, or worse… wet. I did have a nice padded case for it, but padding can only go so far against water or rough handling.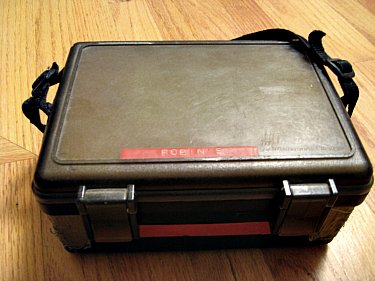 So, I decided to splurge, and bought a lexan case, by Underwater Kinetics that looks like a lunch box. The box was perfect. I could take my camera with me wherever I went, and didn't' have to worry about it getting dropped into the water, or getting knocked.
This box, was well worth the money and paid for itself over and over!!!
Plus… it allowed me to feel comfortable to bring my camera with me everywhere.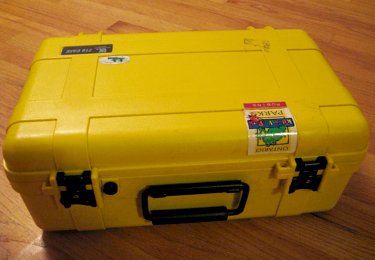 Then, I bought a BIGGER case (also by Underwater Kinetics ) so I could bring ALL my lenses. I never ended up using this one as much cause it was bigger, and I got into packing light, and thus I then purchased a smaller point and shoot digital Canon camera. I'm keeping the bigger yellow Underwater Kinetics case to keep my laptop dry when I go sailing.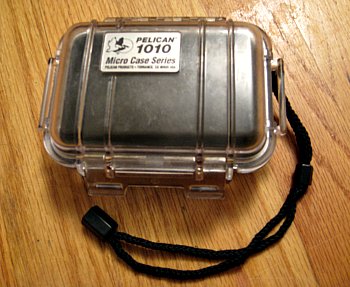 Of course, for my small point and shoot digital, I bought a small black and clear case by Pelican. I bring this camera with me everywhere, cause I feel safe bringing it. I leave it in my purse or bag, and am never caught without my camera, and I don't have to worry about it getting wet or broken.
Pelican cases come with a great warranty: it is a lifetime warranty that means that they guarantee their products from damage or defects in workmanship and they guarantee that their cases will stay dry to a depth of 1 metre for 30 mins (as long as the case or o-ring hasn't been damaged). Plus their bigger heavy duty cases are guaranteed watertight and unbreakable for life!!!
When I guided canoe trips, we used to use pelican cases for many things such as First aid Kits, Satellite phone, GPS. Plus, on these trips, I always recommended the small cases to the campers for their sensitive gear. The small ones usually costs somewhere between $10-20 and are quite handy. Plus their small size allow them to not take up too much space.
Some ideas for what you might want to keep safe and dry when camping are: phones, memory cards, mp3 players, spare batteries, camcorders / video cameras, film, binoculars, even to keep cigarettes safe and dry!
Plus, even if you're not camping larger ones can keep laptops and electronic equipment safe.
I would highly recommend pelican cases, and cases by Underwater Kinetics . Starting at around $10-20, you can't go wrong!


---

Return from Underwater Kinetics Page to Camping Equipment page

Return from Pelican Case Page to Camping Expert Homepage