LIKE us AT Facebook!  Share and learn tips, techniques, gear and more!
Camping Tips :
Advice on Camping Equipment, Tips and more!
Check out my finally completed Wilderness Camping recipe ebook.  It includes only the favourite and loved recipes from all the years that I have spent canoe camping and wilderness camping.  

Also includes meal plan, tips, dehydrating info, gear tips and 49 different meal and recipe ideas! (all tried, tested and true ... on the trail or lake).
Free camping tips from a professional camper!

▪ Are you new to camping?  Maybe you are just looking for new ideas?
▪ Do you want to know what is great camping gear that will last?
▪ What about tried and true campfire recipes?
▪ Or, Camping tips to make your experience easier?
▪ Find this and more!!!


Well, you've come to the right place!
This site is here for me to share my many years of camping experience and guiding with you, so that you can enjoy camping as much as I do, cause camping is supposed to be fun!
There is also space for you to share your best camping tips!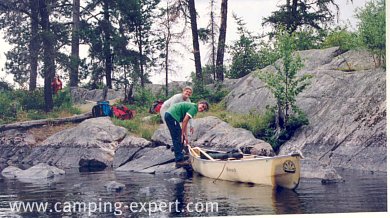 Check out:
How to - This explains everything, from 'how to shit in the woods', to 'how to impress your friends with a HUGE fire'. The how-to section is where you will find answers to questions you were afraid to ask!
Camping Checklists - Complete Lists with all the important camping equipment that you need to bring when camping, so you won't forget the 'matches'.
Food and recipes - Tried and true recipes that have been successful in the bush! From s'mores to bannock. Everything tastes better in the bush, but cooking outdoors (on a stove or campfire) is TOTALLY different than camping in the kitchen (I know I've tasted it- everything from 'cigarette flavored noodles' to 'rice on rocks' - check these stories out). I've made a list of my favourite delicious and easy camping recipes I use. You'll be a pro.
Camping Equipment- Professional advice on choosing the best camping equipment. Plus information on cheap or unique gear, because the best gear, isn't necessarily the most expensive!
Reviews - Leave a review of your camping equipment. Would you recommend it, or not and why? Other campers want to hear what you think of your camping equipment !
Campgrounds - My favourite camping spots, plus you're favourite parks.
Information and tips on: Family camping
Learn how to take camping to the next level and try: Canoeing, Backpacking and Hiking camping.
Safety - experienced advice on how to stay safe in the wilderness, from poison ivy, to how to deal with itchy mosquito bites, bears and more!
Games and activities - Tried and true games, songs for real connections with fellow campers.
Wildlife - It's exciting to come face to face with a wild animal such as a moose or bear. Learn how to increase you chances to see wildlife, identification, and how to avoid the ones you don't want to meet.
Stories - I will tell some of my funniest camping stories and mishaps. Including major blunders or hilarious (after the fact) mis-haps, just so you know what NOT to do! PLUS space for you to share your best stories, or even your own camping tips.
Camping doesn't have to be about roughing it, it's about enjoying the fresh outdoors!
I hope you enjoy my site, and if so, please tell others.
Thanks