LIKE us AT Facebook!  Share and learn tips, techniques, gear and more!
Water Bladder :

Hydration system for Outdoor fun
From Platypus Water bottle and Camelbak pack !
Getting a Water Bladder such as a platypus bag , camelback and the source hydration are great ways to keep hydrated if you're on the move. With a hose of water right by your mouth, you don't need to stop and get into your bag just to get a drink.
I use my water bladder and pack out on day trips, hiking, backpacking and snowboarding. When I go snowboarding, the pack stays tight to my back, so I can keep hydrated on the hill without having a hard water bottle on my back. There are also insulation tubes to cover the hose. Other people I know, use their hydration systems for cycling.


The hose is attached to a bite nozzle that doesn't leak water unless you bite and suck so you don't spill water. At the other end is a heavy duty bag that holds from 1 litre or more.


The bag comes in different shapes. Some are designed so that they are flatter, and don't bulge, others, are longer. Usually they start at 1 litre and go up from there.


The bag openings are either narrow or wider. I prefer the wide-mouth opening so that it's easier to clean after use. They also have extra openings that fit with water filters, which is quite handy.


Hydration companies are now making the hoses removable so that you can remove the hose only, so it's not permanently attached to the bladder.


Some of the main name brands for Water bladders that I've used and liked include:
• Platypus water bottle,
• Camelback backpack,
• SOURCE.
Other brands include:
• Booby water tank,
• Capital safety,
• Mountain Safety Research (MSE),
• Nalgene,
• MPACK Endurance Gear,
• GEIGERRIG.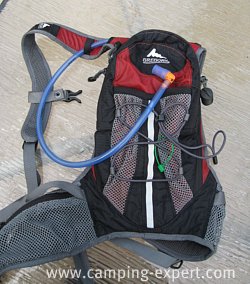 The backpack I use is a lightweight Gregory bag and it fits 1.5-1.8 litre bladders from the source and platypus water bottle . It also has another pocket that can fit my pelican case with camera and a snack, and it sits snugly on my back so I hardly notice I'm wearing anything. It is fantastic, and I love to take it for active outdoor activities.
Before using your hydration system, always check for holes. This is VERY important. I have almost headed out with a holey bag, but luckily caught myself first.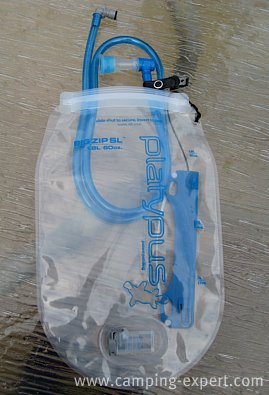 To make sure my bladder lasts and stays clean, I make sure that it dries out fully between uses. I usually put the hose and the top closure inside so that the bag is open to the air, like the image on the left. This prevents mould, and bacteria from building up. Another way to keep your water bladder clean is to empty it after use, and store it in the freezer, this prevents any bacteria growth.


You can also buy special scrubbing systems to clean the hose and bladder.






Hydration systems can be a bit pricey, but if you're looking for convenience, then they're a pretty good way to go if you're into an active sports and activities. You'll use it often.


If you're looking to just buy a great water bottle, check out this page on choosing the Best Water Bottle!.
---
Return from Water Bladder Page to Camping Expert Homepage